COMPANY PROFILE
1. Overview of Au Viet Security Service Company
Have you ever thought of bamboo fans held by the trusted servants of the king or the hand of an adult leading a kid across the road? Not because the king feels hot and the kid cannot cross the road, they need a guard in case of any contingency. Contingency cannot be anticipated in life. Such matter is also the concern of Au Viet Security Service Company for the safety of clients.
Entrepreneurs, during their business activities, are aware of protecting their lives, health, goods and assets and keeping security in their businesses. From this demand, Au Viet Trading and Security Service Co., Ltd was established on 1 March 2007.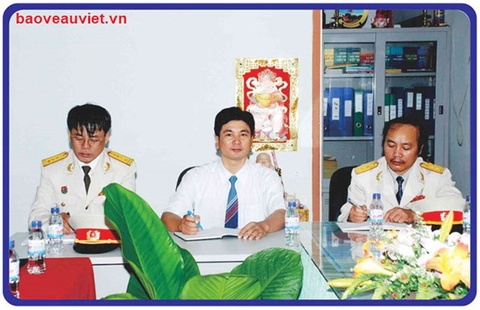 Au Viet Security Service Company in Binh Duong Province specializes in providing civil security for companies, factories and construction works; professional security training; and installation and maintenance of fire safety systems.
Our executives and managers are the officers who have been trained at the People's Police Academy and extensively experienced in civil security and fire safety. In addition, we are supported by young, self-motivated and creative personnel to form a solidary unit.
Guards are screened carefully and trained according to the international civil security materials and professional security training syllabus that have been verified by the Ministry of Public Security in connection with actual conditions of businesses. Expert serving style of the guards have made both local and foreign clients and partners satisfied.
Rapid response team is equipped with modern devices and tools to regularly patrol and keep security at the targets. This team is responsible for assisting, responding and preventing problems or risks that may occur suddenly, including strike, sluggishness, fighting, disturbance, thief, fire, explosion or other actions affecting business and production activities and safety of clients.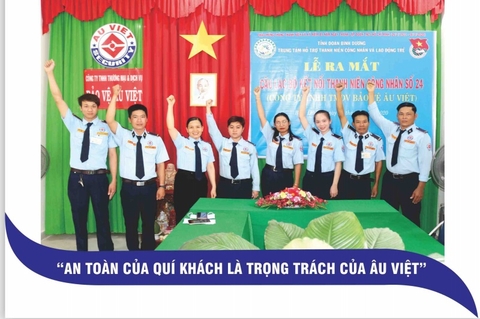 Clients whom Au Viet Security Service Company has been serving come from different countries and continents such as Padifood (Jimmy Food) (Netherlands), International Furniture LLC (USA), Columbia Asia Binh Duong Co., Ltd (Columbia Asia Hospital Binh Duong), Chantelle (France), MTI Vietnam Corporation (Japan), Silkroad (Korea), Leaderart (Philippines), Fourseasons (Australia), Binh Duong School Books and Equipment Company, Delta (Vietnam) and Advanced Cabinets (China).
MISSIONS:
Providing the most favorable security environment for businesses; building, maintaining and developing a good and trusted partnership.
Security and safety at businesses come with social security and order in general. It's both the responsibility and momentum of Au Viet Security Service Company for community.
VISIONS:
Au Viet Security Service Company continues to learn from experience and adhere to innovation and creativity to improve service quality. The respect and trust of clients are an impulse for the development of the Company.
By its inner force and sincerity cooperated with the co-development, Au Viet Security Service Company gradually becomes a leading security company professional, multi-purposes in civil security of the region.
CORE VALUES:
- Honesty is part of professional ethics: Observing the laws and the rules of the Company; maintaining honesty for the truth and the right.
- Respect and cooperation: Respecting the honor, dignity and interests of others; working and supporting together; being devoted to clients and kind to coworkers.
- Giving is receiving: Giving love, life values, belief and chances to be stronger together; sharing responsibility with coworkers and community without self-interest.
- Client-centered: Safety and trust of clients are very important; getting a long cooperation by sharing and proposing best civil security measures.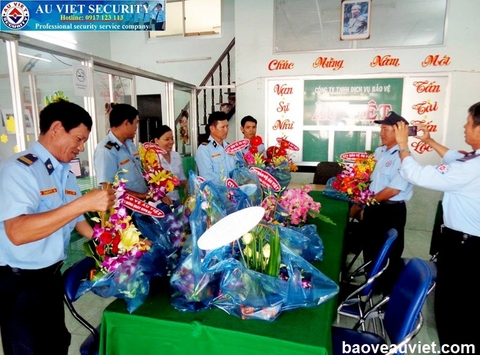 CORPORATE CULTURE:
Manpower is the most valuable asset and the element that brings success to the Company.
All the employees commit to follow the mission and vision of the Company to build up a solidary and amicable unit for general goals, a friendly, fair and dynamic working environment to wake up their inquiring minds, improve their competence and enhance personal values.
Challenges are stimulants and difficulties are furnaces while mistakes are opportunities for growing up. Each employee can promote his/her capacity for his/her happiness. Each member is an individual who is working and living in a home named Au Viet.
ACHIEVEMENTS:
Through over 14 years of formation and development, many employees of Au Viet Security Service Company have been awarded certificates of merit from the Binh Duong Confederation of Labor and Thu Dau Mot City People's Committee.
- The Thu Dau Mot City People's Committee recognized Au Viet Security Service Company as Cultural Company 2015-2016.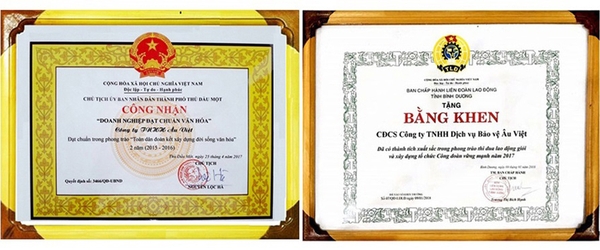 - The Binh Duong Confederation of Labor awarded certificates of merit to Au Viet Security Service Company for great achievements in emulation in good labor and strong Trade Union organization in 2017 and 2019.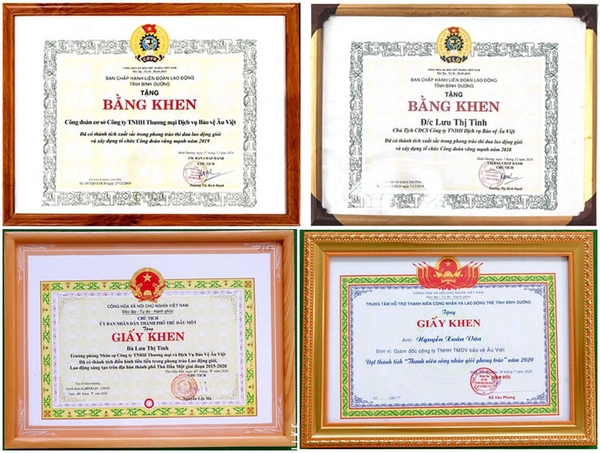 - Mrs. Luu Thi Tinh, Chairwoman of the Local Trade Union, was awarded certificates of merit by the Binh Duong Confederation of Labor and Thu Dau Mot City People's Committee in 2016 and 2018.
In addition, Au Viet Security Service Company and other persons were awarded certificates of merit for great achievements in Trade Union movements, law moot competitions and emulation in good and creative labor.