Professional security training
Pursuant to the laws of Vietnam, a security service company prior to its establishment must be certified as eligible by the police department. Only security service companies with professional security training syllabuses, trainers and facilities verified by the Ministry of Public Security are allowed to carry out professional security training.
Au Viet Company has been certified as eligible for professional security training and licensed for a professional security vocational center by the Binh Duong Department of Labour, War Invalids and Social Affairs to satisfy the demands of organizations, security service companies and security trainees. Professional security curriculum is subject to the international civil security materials and actual conditions of businesses.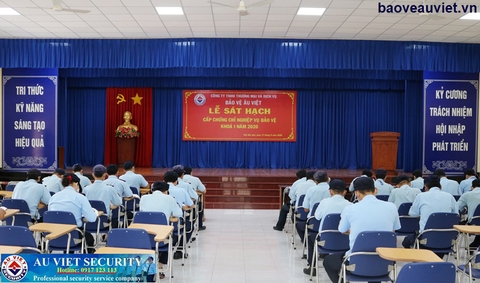 I. Pre-intermediate professional security training (22 special subjects)
- Company rules and professional ethics.
- Security regulations and working style.
- Security-related laws.
- Political theory.
- Functions, tasks and rights of professional guards.
- Patrolling and protecting the target.
- Interpersonal skills
- Skills for strike, riot and fighting prevention
- Fire safety skills
- Document preparation skills.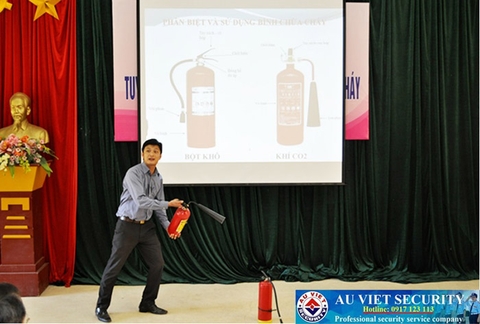 - Scene protection.
- First aid.
- Security for factories and companies.
- Security for construction works.
- Security for buildings, offices and hotels.
- Security for bookstores and supermarkets
- Security for restaurants, bars and dance halls
- Security for events (opening, inauguration, music and fashion shows, amusement).
- VIP protection.
- Security for banks.
- Features, effects and using methods of supporting tools.
- Test (subjective and objective)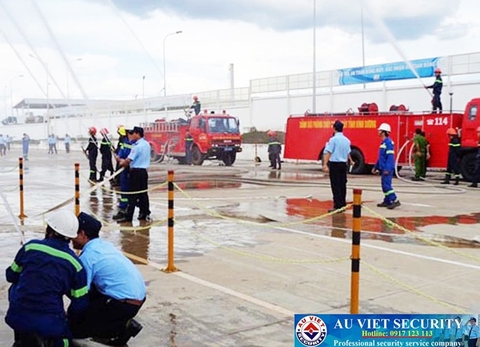 II. Secondary security training: including 19 topics of primary security training and the following:
- Command and target control.
- Reporting skills
- Advanced laws
- Investigation, verification and situation assessment at the target.
- Thief prevention and investigation.
- Movable target protection (transport escort).
- Martial arts for self-defence and resistance
Security service company in Binh Duong - Au Viet Security